Gorgeous mommy to be, Amy Jackson, is in her 38th week of pregnancy and her Instagram feed is the proof that she is absolutely enjoying the pregnancy phase. She is just a few weeks away from giving birth to her first child.
The 2.0 actress had a posh baby shower in Corinthia, London where she revealed that she is having a baby boy. She got engaged to her boyfriend George Panayiotou, this year in January.
Amy shared photos from her latest pregnancy photoshoot on social media. The picture shows her being clicked by a photographer who is pregnant, too. Both of them is seen flaunting her baby bumps in dungarees. The caption read, "WorkingMomsss #38weekspregnant | lights camera swollen ankles DUNGAREES AND BABYBUMPS."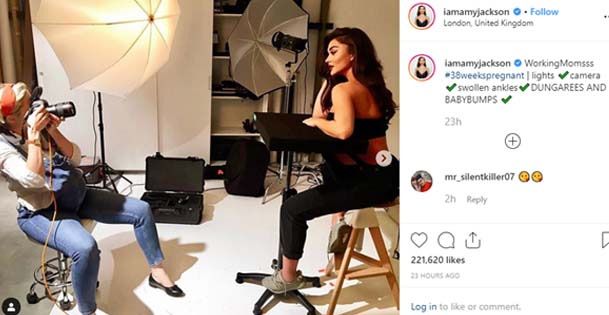 Earlier the actress shared a pictures and a 'behind-the-scenes' video of her maternity shoot. She was seen casting a spell of her beauty in the pictures where she was rocking a black slit dress with stilettoes. With minimal makeup and perfectly done hair, she looked absolutely stunning.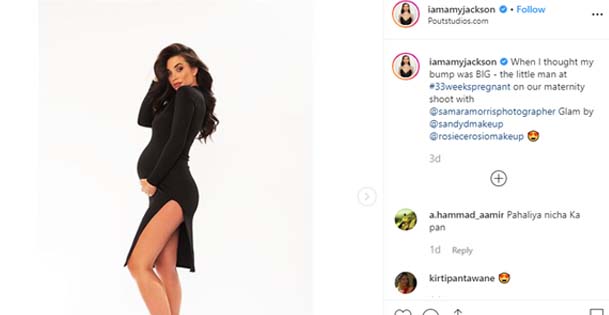 Previously in an interview, Amy revealed that the pregnancy was totally unplanned. She said, "It was totally unplanned. We had no idea. We're at that stage where we're definitely ready for it. I don't think you can ever plan something perfectly, but we're in such a good place. We're happy together, we have a beautiful home and we're excited to be a mum and dad."
Amy and her fiancée, George are planning to get married next year soon. The couple is expecting their baby boy in October.
The actress was last seen in the movie 2.0 opposite Rajnikanth and Akshay Kumar.